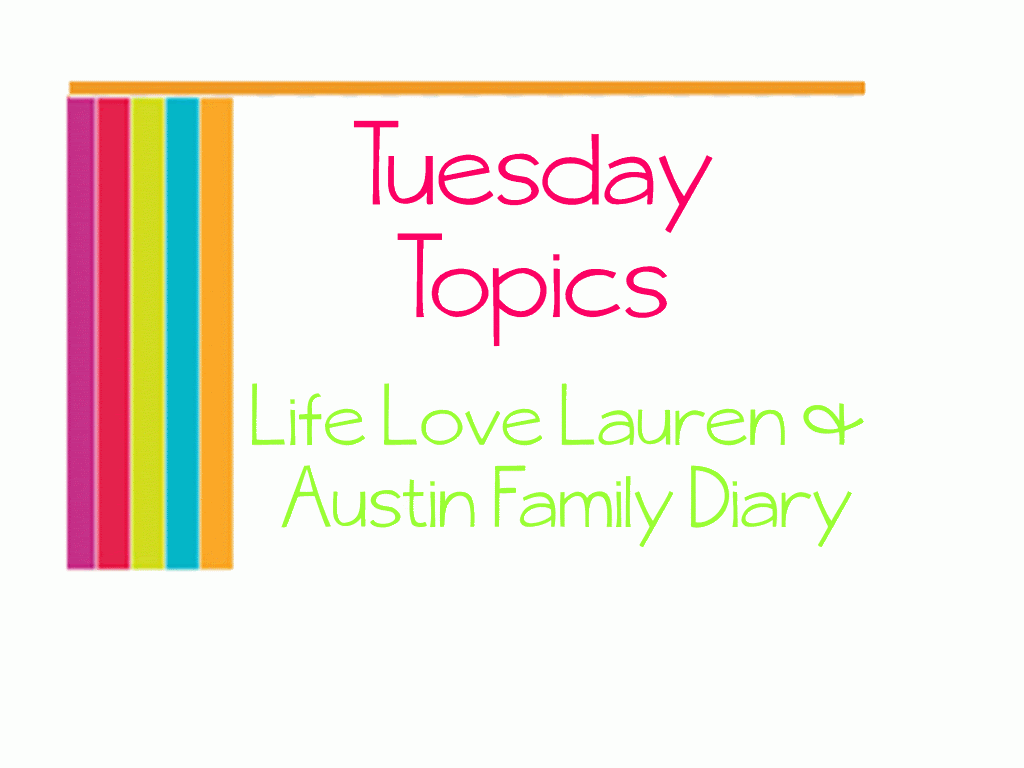 Linking up with
Lauren
and
Tiffany
for another Tuesday Topics post. Today's post is all about blogging. :-)
What is your blog about?
Well, my blog is about a lot of things, but, the main focus is on the shenanigans that make there way into our little world. I talk a lot about my hubby, our son, and our family/friends. I am also a professional photographer on the side, so I like to share pictures from my most recent sessions. I am actually in the process of setting up a new blog for that portion of our lives, so stay tuned for that. :-) In all honesty, this blog is just a mish-mash of everything that goes on, anything that I may be thinking, and is a great way for me to document what's been happening. It's been great to look back and remember the small things, and the big things that have happened.
Why did you start blogging?
I started blogging as a way to let off some steam, to document what goes on day-to-day, and to keep some close family/friends updated on our lives. It has turned in to so much more than that. Before I started blogging myself, I read a lot of blogs, and realized I wanted to get involved with it as well. The blogging community is such a great one, and I've been able to get to know a lot of wonderful people. I enjoy reading other blogs, and I love being able to share my thoughts/feelings/ramblings with others. It's a great outlet, and I am so happy to be a part of it all. I sometimes still have a hard time letting my guard down, but I am working on it. :-)
What's something your readers know about you?
I'm hoping my readers know a lot. ;-) That's the whole point of blogging, right? I'm sure they know I'm married to Darren, we have one child, Ryder, and we have four fur babies (two cats, and two dogs.) I share my love for movies and photography, a lot, so I'm sure my readers have my love for all of these things beaten into their brains. :-) I tend to ramble a lot in my posts, which I'm sure readers have noticed as well. One other thing, I'm sure you've all noticed that I use smiley faces...a lot. :-)....see?
What can't you live without?
My hubby, son, family, friends....my camera....my phone/computer/technology in general....movies....pizza.
What inspires your blog posts?
It really just depends on the day. One day, Darren or Ryder may have inspired my post; or one of my sessions may have inspired me that day; or, I may have a lot going on and need to ramble it all out, so that is my inspiration. That's the beauty of blogging; anything can be an inspiration for a post.
What do you do when you feel uncreative?
These are the posts where you may see me ramble. A lot. Sometimes, I may not even blog, and I go about my day/life and stumble across something creative to delve into.
How has blogging changed you?
In all honesty, how I am on my blog is how I am in general. There are times where I may hold back on my blog, but, with each post I'm becoming more comfortable with sharing things and really becoming vulnerable and open with you all, and myself. I guess that's how blogging has ultimately changed me. I typically shield my emotions, which inevitably causes me to boil over and explode uncontrollably. I think I've gotten a bit better about that since starting this blog. I still have my moments, but it's getting better.
What advice do you have for new bloggers?
Be genuine; be kind; be open-minded. The blogging community is such a vast and diverse one, I am constantly learning something new and connecting with amazing people.
What blogs inspire you?
Do you see all of those buttons/blog reel on the side right over there? -------->
All of those blogs, in one way or another, inspire me. They are wonderful ladies, and I am so happy/proud to be a follower of their blog.
That was a fun topic!! Happy Tuesday, friends! :-)