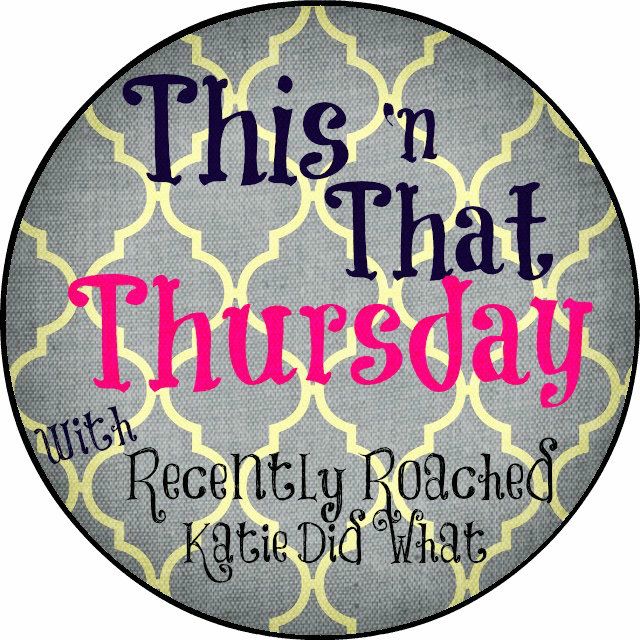 Today I am linking up with
Jena
and
Katie
for This n' That Thursday. If you haven't checked out these ladies' blogs, I highly recommend it, just sayin.'
This: This week has been fast and slow at the same time, if that seems possible. Maybe I'm just becoming crazier, which seems much more realistic. I have been busy with work and editing and wifey time and mommy time and whatever else. But, at the same time, the week itself seems to be dragging a bit. Who knows.
That: Who else is ready to hop on the Christmas train? I am so ready for Christmas to be here that I can hardly stand it! I think I'm more or less excited for the opportunity to stuff my face with cookies and pie. Me and my jiggles can hardly wait! I guess I should finish up that Christmas shopping, huh? Since we only have 12 days left, and in reality, only about 10 shopping days left, I better get a move on it. I still have a ton to do, but I don't know why I'm surprised by this. I always say I'll start my shopping earlier every year, but I still end up being that crazy person on the 23rd and 24th, expecting to find the hottest deals still on the shelves, and ends up getting gift cards for everyone.....
That's how I roll.
This: The hubby has been good about putting Eric, our Elf on the Shelf, a different place each day. So good, in fact, that I don't even notice he's there, and then I about pee myself when I see his creeptastic face staring at me while I'm working on the computer, or peeking around my snowman, or looking down at me while I get my piggies on a snack from the fridge. Just wait until I hide the elf Darren...
That: I started using a new face moisturizer today. It smells weird.
Happy Thursday! :-)