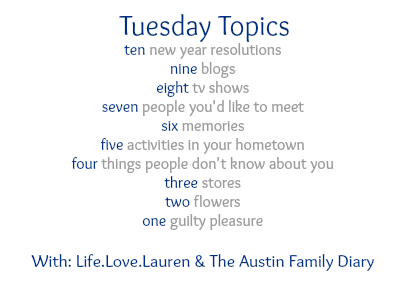 Linking up with Lauren and Tiffany for another round of Tuesday Topics! :-)
Today is a really fun (yet hard) one....nine blogs.
When I first started blogging, I didn't realize how large the entire blogging community was. I've made some great blogger friends along the way, and I am so thankful for what blogging has done for me.
Did I mention how hard today's topic is? There are so many wonderful blogs out there, so it's pretty difficult to only choose nine. ;-)
Whitney is absolutely hilarious. I love reading what she's been up to, and I really dig her topics. Her writing style is plain awesome, so go check her out! :-)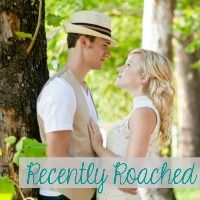 Jena's blog is pure awesomeness. Seriously, she has me rolling in almost every post. The way she writes really draws a reader in; she's a very talented blogger, that's for sure!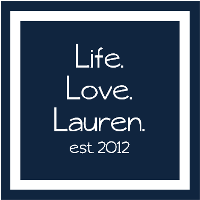 Of course Lauren would make my list of nine!! :-) I LOVE her personality. I learned a lot about her when the 10 Day Challenge was going on, and I noticed we had tons in common. She's an awesome blog buddy! I wish we lived closer so we could meet in person. :-)
I adore Tiffany and her blog. I love reading all of her pregnancy updates and how excited her and her hubby are to become parents. She has a wonderful personality and it really shines through in her blog.
I absolutely LOVE Leah's blog. Her boys are absolutely adorable, and I love reading about what's going on in their neck of the woods. Her photography is absolutely stunning, and I love seeing her latest work.
Pink Lou Lou talks about it all: hair, make-up, decorating, life....absolutely everything. She is completely adorable (so is her puppy), and I am so glad I stumbled across her blog. :-)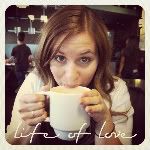 I LOVE Sar's blog. I love her writing style and the topics she blogs about. She is easy to relate to, and she is such a sweetheart. She did a whole series about online dating disasters, and even included some of her experiences. Her blog is such a great one to subscribe to! :-)
Beth Anne's blog, formerly "The Heir to Blair" blog, is one of my ultimate favorites. She puts it all out there, and I really dig that. She has a little one just a tad older than my little guy, so I can really relate to her topics and what she goes through. Amazing blog!
I adore Abbey and her blog. Her and her boyfriend are completely adorable together, not to mention Abbey is one of the sweetest girls/bloggers out there. I love reading her book reviews and reading about what's going on with her. :-) Another great blog to follow!!
Whew! That was seriously tough. So many great blogs, so little time. :-)
Happy Tuesday!!