Hey guys! So, am I the only one that is in shock with what happened at the Boston marathon yesterday?! It just breaks my heart! I am sending positive thoughts to everyone that was there, involved or not, and to everyone lending helping hand.
Today, I am super excited to be linking up with two of my favorite girls in the blogosphere,
Abbey
and
Tamara
, for Training Tuesdays.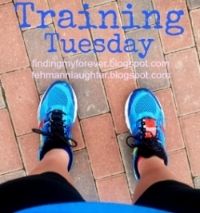 They are awesome runners, and have inspired me a great deal these past few months; SO much, in fact, that I lost my marbles and signed up for my first 5K ever.
Yep, you heard that right, I took the plunge. Me and my jiggles will be bouncing and sweating away at
The Color Vibe
5K run in July. I somehow talked Darren into signing up as well, so we'll be lacing up our Nike's together, running side by side in this thing. I already paid for it, so, there's no backing out now!
I'm actually really excited about it, and I'm even more excited that Darren agreed to do this with me. He's incredibly supportive, and considering I am more than a little out of shape, his support is really going to help me along with this. He jokes that he's not going to do well and won't be able to run the whole thing, and I joke that he'll have to peel me off the pavement after the first mile. But, all joking aside, I know we can do this. With the proper training and confidence in what we're doing and in ourselves, I know we'll be just fine. :-)
So, now the training starts. I have a little over 11 weeks to prepare and get in gear, which I think is plenty of time. Since I am seriously out of shape, I'm going to start with walking this first week or two. Then, I will start intermixing running with my walking, and then start increasing the run time and decreasing the walking. It sounds easy, but I know it's going to kick my ass.
I feel like walking/running is not going to be enough, so, after talking with Tamara, I think I may want to try the
30 Day Shred
. Let's hope I don't weep like a baby after I try it... ;-)
So, with all of that being said, let the training begin!