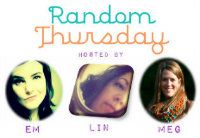 Today's topc is all about....
Let me get real with you all: I'm definitely
not
a fashion blogger. I was asked to do a
product review once
, and let's just say the pictures that accompanied the post left little to be desired.
So, instead of me modeling my spring apparel, how about some pictures that show off the clothes/shoes/etc on their own? Well alrighty then! (name that movie)
I love sandals and flip flops. As soon as the weather gets above 50 degrees, I bust these babies out, and don't stop wearing them until it gets so cold that I risk getting frost bite on my toes. ;-) That may be an exaggeration, but, sandals/flip flops are a Spring staple in my apparel bin.
I like to keep it simple, so I tend to stick with denim colors and black yoga pants/capris. Some of the colored capris are cute, but I'm too scared to try and pull it off. So, I stick with what I know and what I like. :-)
These are some of my favorite tops to wear in the Spring. I tend to stick with solid colors, but may occassionally throw in a striped top here and there.
If all of those bags would make their way to my house, that would be greatly appreciated. ;-)
Well, I think that about does it. Happy Thursday, yo'.