It's Tuesday, which is definitely one of my favorite link-up days. :-)
Today is 6 of my favorite products.
Since I don't talk about it a lot, I thought I'd share some of my favorite health/beauty products today.
Proactiv Regimen
I use this every day, twice a day. It has really helped clear up my skin, and has really made my skin a lot softer and smoother. Plus, I signed up for an automatic shipment plan, so, when it's time to order more, it's done automatically and shipped right to my door. Since I tend to forget things, I'm sooooo happy they offer this!
Big Sexy Hair Root Pump Plus
When I decide to take the time to straighten my hair, this is one of my go-to products. It gives me a nice lift, and gives my hair a bit more body.
Rusk Str8 Hair Lotion
This goes on right before I blow dry my hair. I love the feel and the smell of it! Plus, it helps with the frizz so my hair straightens easily. Love this stuff!
Rusk Thermal Serum
I use this when I plan on blow drying and straightening my hair. It protects from the heat of the blow dryer and straightener, but also gives my hair some great shine. This smells great as well! :-)
Bare Minerals Make-Up
I have been wearing this make-up for a few years, and I will NEVER go back to regular foundation. This feels incredibly light on my face, and I feel like it gives me a more natural look.
L'Oreal Voluminous Million Lashes Mascara
This is my favorite mascara EVER! I'm notorious for changing up mascara every time I run out and have to buy a new tube, butI've bought this same kind the last three times. I LOVE IT!
Try some of these products if you get the chance. They are pretty amazeballs! ;-)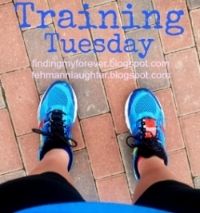 My workouts have been going great!!
Monday: Elliptical and strength training
Tuesday: REST
Wednesday: Elliptical and strength training
Thursday: Elliptical and strength training
Friday: Elliptical, but took a break with strength training
Saturday: Elliptical and strength training
Sunday: REST
The elliptical has gotten much easier this past week. Saturday was seriously amazing, and I was almost in tears (happy tears!!!) because of how hard I pushed and long I was able to go. I did over 3 miles! That may not seem like much, but, I am seriously so proud of how far I've come in just two weeks. I feel like I will be more than ready for my 5K coming up, (a little over 2 weeks....eeeeek!!!) and I'm definitely going to keep pushing myself. I feel so much better after working out; I'm sad it took me this long to realize how much satisfaction I get out of doing it. Better late than never!

Eating healthy has been going pretty good as well. The weekends are pretty tough, especially with how busy we've been, but, for the most part, it's all going great.
Last night I decided to cook up something healthier to bring for a couple of my lunches this week. It is actually pretty tasty!
I diced up my chicken and sauteed it in some EVOO and chopped garlic. I added in some green beans, and a little salt and pepper. Yum!
Happy Tuesday, peeps. Make it a great day!