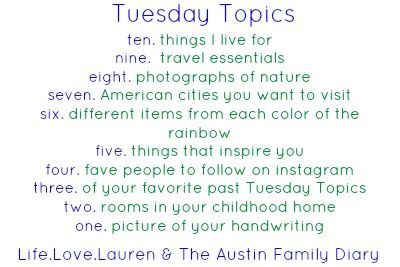 Time for another round of Tuesday topics with these lovely ladies!! :-) Today's topic is 10 things I live for.
Ryder
I can't imagine life before my little doll face was a part of it. :-)
Darren
This man is my everything, and my love for him is indescribable. <3
Family
I would be lost without my family. Love them all to pieces! :-)

Friends
I am so lucky and fortunate to have such a great group of friends. It's not about quantity; it's about quality...and in my humble opinion, I have some of the best friends...EVER! ;-)
Our Fur Babies
They are part of our family, and I would do anything for them.
Crisp Fall Days/Evenings/Nights
It's no secret that fall is my favorite time of the year. My birthday, our wedding anniversary, and so many more wonderful things take place in the fall.
Holidays
I am a HUGE fan of Christmas and Thanksgiving. I host Thanksgiving every year, and I love every second of it. I love decorating the house for Christmas, and I love being able to spend this time with our families. It's a wonderful time of the year!
Photography
I have found something I really enjoy doing, and I am so greatful and overjoyed at where this journey has taken me. Sure, I may be so busy sometimes I can't see straight; I may get stressed to the max when I have a lot on my plate; but, when it comes down to it, I love what I do.
Music/Movies/Books
I love getting lost in a good book; getting wrapped up in a plot in a movie; being brought to tears by a beautiful piece of music. I love it all, and I live for feeling those powerful emotions.
Living Life
I live...well...to live...if that makes any sense. I try to enjoy this life as much as I can, and do as much as possible with the people I love most. That, to me, is ultimately live for....the every day busy bustle of life. It's who I am, so why not enjoy it?
Happy Tuesday friends! Have a fantastic day! :-)