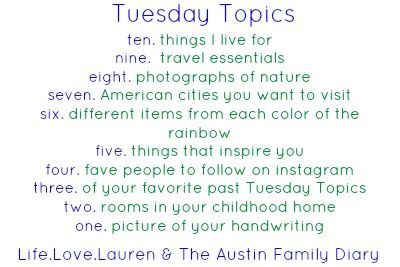 Today's topic is seven American cities I want to visit.
Washington DC
I would love to visit our Nation's capitol and see the different monuments and museums.
Boston, MA
There's just something about all of those big cities on the east coast that really draw me in. I've been to NYC and LOVED it, but, I wouldn't mind traveling to some of the other east coast cities as well. :-)
San Franscisco, CA
Darren and I were just having a conversation about future vacations, and he thought I was crazy for wanting to visit San Franscisco. I would love to see the Golden Gate Bridge and other parts of the city. Plus, can anyone tell me if the exterior of the 'Full House' house is real?!
San Diego, CA
I've heard that San Diego is absolutely gorgeous!
Seattle, WA
I would love to visit the upper West coast, especially Seattle! For one, it looks amazing; and two, it's where 'Grey's Anatomy' is based. ;-)
Anchorage, AK
I would LOVE to visit Alaska someday. The views looks absolutely breathtaking!

Portland, ME
I have always wanted to go to Maine....and after seeing this picture, I want to go even more!
Happy Tuesday, peeps. Have a great day! :-)