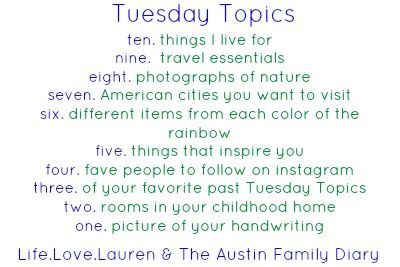 Linking up for Tuesday Topics! :-) Today's topic is six different items from each color of the rainbow.
Red
via
I love our vehicle, and it just so happens to be red! :-)
Orange
via
Lately, I've really been digging the look of bright colored tops. I've been told that orange is one of
my
colors, so I've been gravitating to them a little more.
Yellow
I loved these centerpieces at one of the weddings we photographed earlier this year. The yellow flower really made them pop. Plus, I love the yellow light bokeh in the background. :-)
Green
One of my favorite things to do is drive around and photograph different things. I love capturing the green grass in the late spring/summertime.
Blue
I remember taking this photo and I was in awe at how beautiful and blue the sky was this day!
Purple
via
I love bright colored shoes, especially these!!
Happy Tuesday!! Have a great day! :-)